Truth is, I don't think there are any "real" answers to any of these questions... all mineralize skinfinishes vary depending on batch and "veining" - no MSF is ever exactly the same. If yours has less veining, you won't get as much bronzey shimmer... if yours has a ton of veining, the color may turn out to have more of a gold/bronze tone it.
From what I see, my newer Stereo Rose is the teeniest bit more bronze & less rosy, which is probably due to the fact that it has more prominent veining than my old one. Texture-wise, they are both superior to other MSFs in the past. Both are smooth, easily blendable, highly pigmented, and soft to the touch.
In my personal opinion, they are not different enough to *need* to own both - unless you're a collector or want a backup :) It's one of my favorite MSFs of all time... it flatters almost all skintones and isn't easily dupeable (to me at least). I'm not surprised that there's SO much hype over this! Definitely pick one up while you can.
*Sidenote: I wasn't able to purchase mine from MAC or Nordstrom online since they sold out in a couple of hours, but I was luckily able to pick up the last one they had at my local Bloomingdale's*
****In all photos: ORIGINAL STEREO ROSE on the LEFT ~ NEW STEREO ROSE on the RIGHT****
Here are some swatch comparisons between the "old" Stereo Rose (from its previous and only release back in 2005) and the "new" Stereo Rose (re-released with the new In the Groove collection, officially launching at MAC stores & counters tomorrow). So is the newer version lighter or not? If you have one from the original release, do you really need another from this release? Are they really that different?
My MAC Mineralize Skinfinish collection is FINALLY complete!!! I've been a collector of these babies for a couple of years now, and since almost all of them are from Limited Edition collections (of course :/) it took quite a bit of time and effort to hunt some of them down!
My very first MSF was Gold Deposit. I purchased it back in 2005, and for a long while, it was the only MSF I owned. I must've used it EVERY single day for about a year - I loved it that much! As time passed, I collected little by little... I purchased the more recent MSFs as soon as collections were out. But every single one previously released that I missed I had to literally hunt down over time... I've scored some awesome deals & was able to pay way under retail for some, however I also ended up paying way OVER retail for a select few (super rare) ones!
As of now (April 2010), I have every Mineralize Skinfinish that MAC has ever released - and of course there will be more to come in future collections... I can't wait! But for now, here is a list of all the MAC Mineralize Skinfinishes along with photos (photos are in no particular order... lightest to darkest I guess?) from my personal collection (& swatches too)!
I've scoured the internet for previous MAC collections that included Mineralize Skinfinishes (& their release dates) & came up with this list below. Feel free to let me know if I've made any errors :)
ROCOCO
July 29, 2004
- Gold Deposit: Deep copper bronze with gold sparkle
- Pleasureflush: Soft pink shimmer with golden sparkle
- Shimpagne: Beige shimmer with golden/copper sparkle
HIGH TEA
December 26, 2004
- Porcelain Pink: Pinkish coral with gold sparkle
- So Ceylon: Rose bronze with golden bronze sparkle
GOLDPLAY
July 28, 2005
- Gold Deposit: Deep copper bronze with gold sparkle
- Metal Rock: Chocolate bronze with coppery sparkle
- New Vegas: Fleshy golden beige with bronze pearl
- Porcelain Pink: Pinkish coral with gold sparkle
- Shimpagne: Beige shimmer with golden/copper sparkle
- Stereo Rose: Coral with golden/bronze shimmer
LINGERIE
December 26, 2005
- Naked You: Pale beige with grey and brown veining
- Petticoat: Pale rose with gold and amber veining
A MUSE
July 20, 2006
- Porcelain Pink: Soft pinky coral with gold sparkle
- Shimpagne: Beige shimmer with golden/copper sparkle
- Shooting Star: Soft caramel tan with gold sparkle
DANSE
December 26, 2006
- Glissade: Golden peach with a muted metallic plum veining
- Lightscapade: Soft yellow, pastel pink, muted orange, and soft blue veined together
FLASHTRONIC
July 19, 2007
- Global Glow: Mid-tone brown with gold pearl
- Gold Spill: Pink peach with warm brown and cream pearl
- Northern Light: Mid-tone pink with rust and grey brown veining
ALEXANDER MCQUEEN
October 4, 2007
- New Vegas: Fleshy golden beige with bronze pearl
N COLLECTION
January 8, 2008
- Light Flush: Soft pastel pink with deep bronze veining
- Warmed: Golden bronze with light yellow gold veining
MINERALIZE
February 14, 2008
- Gold Deposit: Deep copper bronze with gold sparkle

SHEER MINERALS
October 16, 2008
- Petticoat: Pale rose with gold and amber veining
- So Ceylon: Rose bronze with golden bronze sparkle
- Soft & Gentle: Gilded peach bronze
BLONDE, BRUNETTE, REDHEAD
January 8, 2009
- Blonde: Soft Pink to Rose degrade
- Brunette: Soft coral to copper bronze degrade
- Redhead: Gold to salmon pink degrade
COLOUR CRAFT
July 9, 2009
- Cheeky Bronze: Soft Golden Coral with bronze pearl
- Porcelain Pink: Soft pinky coral with gold veining
- Smooth Merge: Left: Soft Champagne Pink; Center: Deep Rose; Right: Pale Cool Pink
- Sunny By Nature: Rich Bronze with pink pearl
- Triple Fusion: Left : Soft Champagne Gold; Center: Soft Golden Pink; Right: Rose Pink with Golden Nuances
- Warm Blend: Left: Antique Gold; Center: Mahogany Bronze; Right: Copper
WARM & COZY

December 26, 2009
- By Candlelight: Golden Pink
- Comfort: Golden Bronze
ON TO THE PHOTOS & SWATCHES!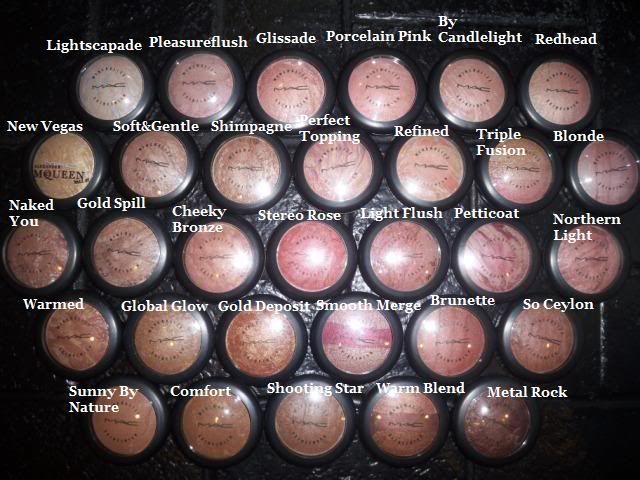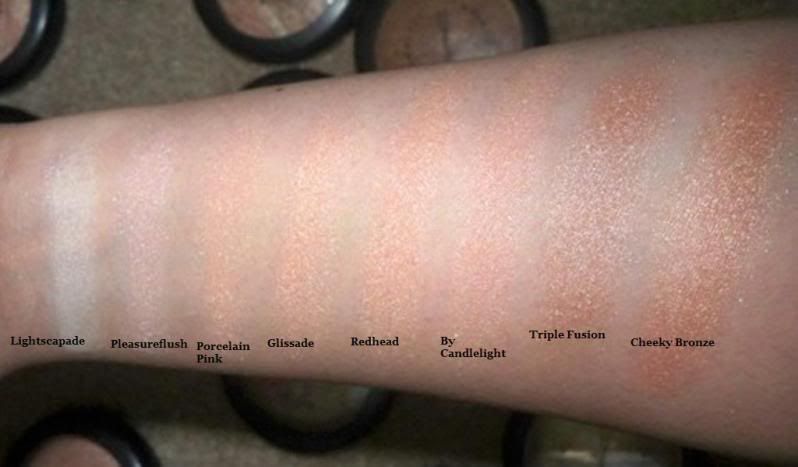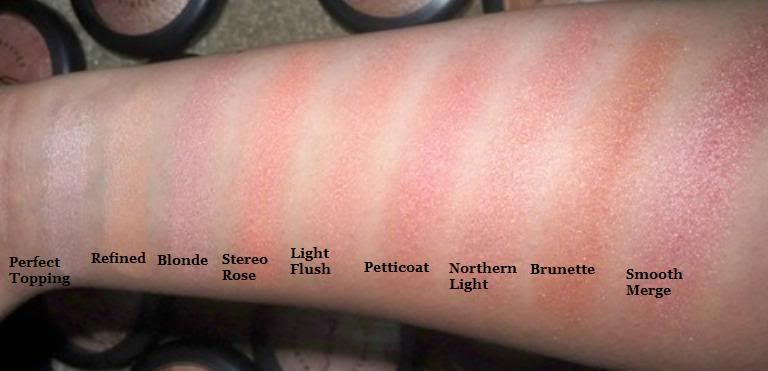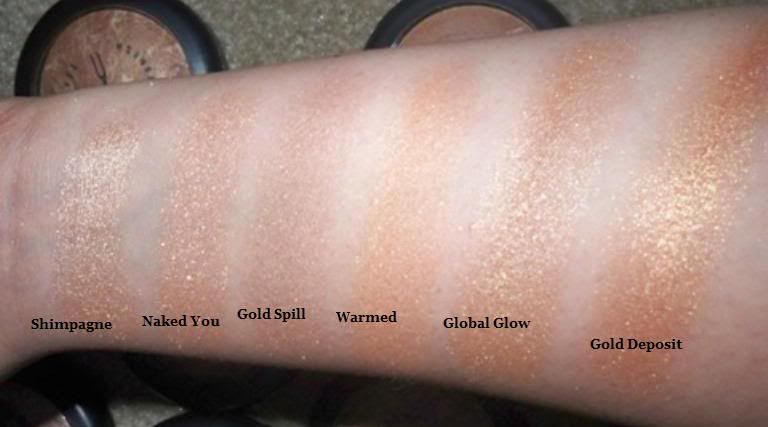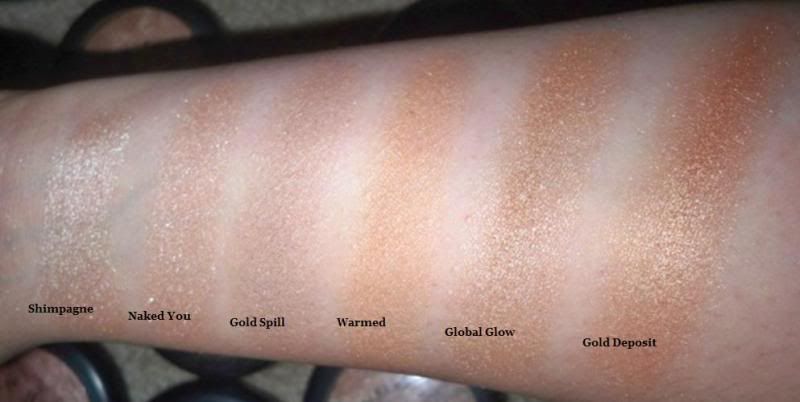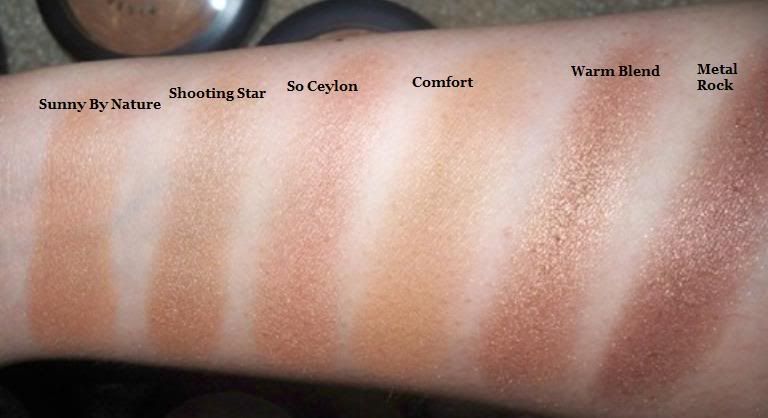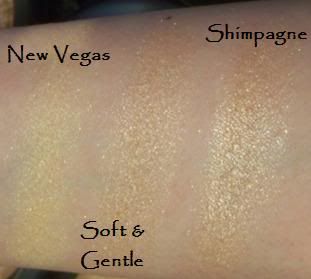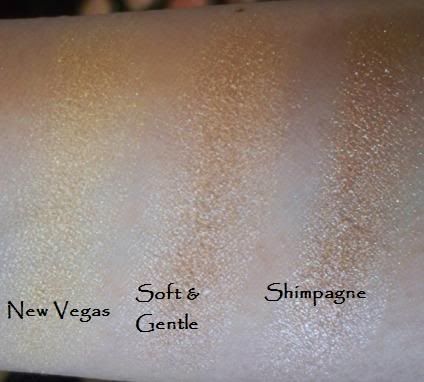 *Please excuse New Vegas all by its lonesome.. not sure what happened there*
Here's a few observations I've made based on my own personal experience... you may agree/disagree depending on whether: 1) the "veining" on yours is different (which it probably is since NO mineralize skinfinish is exactly the same, or 2) when yours was released (there are some shades that have been repromoted after months, even years, after its original release - which may/could cause slight difference in texture, pigmentation, etc.)

Best MSFs to use as Highlighter:
- Pleasureflush - loooove the duochrome-y finish to this one... the photos above definitely don't do it justice! It really is that beautiful!
- By Candlelight
- Shimpagne
- Soft & Gentle
Best MSFs to use as Bronzer:
- Sunny By Nature
- Comfort
- Shooting Star
- So Ceylon
Best MSFs to use as Blush (for Fair to Medium skintones):
- Light Flush
- Redhead
- Blonde
- Warmed
Best MSFs to use as Blush (for Medium to Dark skintones):
- Brunette
- So Ceylon
- Gold Deposit
- Warm Blend
Best MSF to use as Blush (universal - works for most skintones):
- Stereo Rose
- Cheeky Bronze
Most Glittery MSFs (aka most likely to make you look like a "Glitterbomb"):
- Naked You
- Glissade
- Gold Spill
- Northern Light
These are the MSFs that most people would describe as "chunky" (due to the tiny chunks of glitter they contain). Such a shame because these are such gorgeous colors, especially Northern Light & Naked You! I absolutely love the shade of Northern Light (I use it as a blush), but I hate the glitter fallout all over my face when I try to apply it like a normal blush.
The only way I can get all of these MSFs to work is to TAP OFF THE EXCESS glitter off the brush before applying the product to my face. Yes, it's an extra step, but it only takes a few seconds & it's very much worth it if you love the colors of these MSFs.
Least Glittery MSFs (aka ZERO glitter chunks):
- Lightscapade (almost matte)
- Porcelain Pink
- Sunny By Nature (almost matte)
- Comfort
Best Texture (smooth, very pigmented, easy to blend):
- By Candlelight
- Blonde
- Brunette
- Redhead
- Stereo Rose
- Shooting Star
Best MSFs for that "All Over Glow":

- Perfect Topping
- Refined
Although gorgeous to look at, these two MSFs (released with the Sugarsweet collection) aren't very pigmented. They are, at best, a highlighter - however you'd probably still have to layer them a couple of times over. But I did find that these are great to use all over the face (with a light hand). It won't add much color (if any.. probably not) to the face but it will give a subtle all-over glow, which is a lovely look & isn't easily achieved by any other MSF.
And this is what my MSF drawer currently looks like :/ I'm trying to find some kind of tray/organizer that will hold all of them & keep them organized. Any ideas?
Let me know if you'd like me to do side by side swatches/comparisons on any of these MSFs :) Thanks for looking & hope you enjoyed...
P.S. I CAN'T WAIT FOR STEREO ROSE TO BE REPROMOTED IN JULY 2010! FINALLY!!!


As much as I love mid to high end cosmetic brands, I also love amazing deals & great value! These are awesome drugstore products I use very frequently (some almost daily!) & I've found they're all just as good (if not better than) other comparable high end versions.




1. L'Oreal Extra Intense Liquid Eyeliner in Black - think Urban Decay 24/7 liner in Zero dupe but BETTER! It's creamy, smooth, SUPER pigmented, staying power is awesome, & it works great on the waterline. This is also my fave liner to tightline with... HG status for sure!!

2. L'Oreal Studio Secrets Magic Perfecting Base primer - this creates a velvety smooth base before I apply ANY type of foundation (powder, liquid, cream). It really does minimize pores & even provides a bit of coverage for some redness/discoloration on my face. Definitely worth $12!!! I just wish it came in a tube or jar w/a pump.. the pot alone isn't the most sanitary.

3. L'Oreal Double Extend Beauty Tubes mascara - my favorite mascara ever! I've got short stubby lashes & have tried tons of mascaras (both low & high end) & this baby gives me the most dramatic results. It literally doubles the length of my lashes, holds a curl very well, & is easy to remove (just warm water does the trick! I hate mascaras that are a PITA to take off). It doesn't volumize a ton, but that's okay. Plus the whole "beauty tubes" technology is pretty cool. :)


4. Ecotools Powder Brush - I loooooove Ecotools brushes.. this particular powder brush is super soft, & it's just the right size to apply setting powder all over my face. I prefer this to MAC 150 (too itchy) & MAC 134 (just a regular powder brush to me).

5. Sonia Kashuk Crease Brush - this is the one where the bristles form the shape of a "bullet"... kind of... it's shorter than most crease brushes, but unlike most crease brushes I've tried, this one really "gets in there" (especially if your crease is almost nonexistent, like mine :/).

6. ELF Eyeshadow "C" Brush - awesome brush to pack on color over the eyelid... for $3 (or less if you buy it during ELF sales), who needs the MAC 239?!

7. Studio Tools Crease Brush - this is $1.99 at Target & works great as a crease & blending brush. And it's $1.99. REALLY great deal. Did I mention it's $1.99?!

8. ELF Blush Brush - This may look a little small (& to some folks it might be) but I find the shape perfect for applying blush on the apples of cheeks OR applying highlighter on the cheekbones. This one is also $3.

9. Ecotools Bronzer Brush - BEST BRONZER BRUSH EVER! It's the perfect size, softness, & density for bronzer application & blending. I can also see this working well to apply loose mineral makeup.




10. ELF 4-pan Eyeshadow Quad - I'm so glad ELF is finally sold at (most) Targets!! These quads are only $1 & fit MAC eyeshadow pans - great for travel & convenience. I picked up a ton of these since MAC recently raised the prices of their empty quads/palettes... this ELF quad serves the exact same purpose, & I happen to like the pearly white packaging.

11. ELF Eye Makeup Remover Pads - another great ELF find for just $1 - there's 18 pads per package & they don't irritate my sensitive eye area. I just swipe once or twice over my eye & all my eyeshadow (base & all) is instantly removed. This doesn't work for waterproof or long-lasting eyeliners or mascaras though, but for $1, it's well worth the value.

12. Visine - I bought this for my contacts, but ended up using it to foil my eyeshadows! I "lost" my Fix+ one day (it actually somehow rolled underneath my bed) & decided to use Visine to foil my pigments (I've heard of this method before but never tried it).. well folks, it WORKS! I love the convenience of multi-use products :)




13. NYX Eyebrow Cake Powder - I prefer using this instead of regular eyeshadow to fill in my brows. It's SUPER pigmented, the wax does its job, & it's staying power is impressive. The only things I didn't like or use were the 2 mini brushes it came with (a spoolie & angled brush, which were low-quality). But for $4.99 at Ulta, it's an excellent value! It comes in a good range of colors, too :)

14. Revlon Age Defying Moisturizing Concealer - my everyday go-to concealer! It's the BEST drugstore concealer I've ever tried. I love the squeeze tube packaging & it covers up my undereye shadows really well. I also love the fact that it moisturizes & does NOT look cakey or settle into fine lines.

15. Maybelline Define a Brow pencil - this is the drugstore dupe of MAC's eyebrow pencils (the ones that twist up, not the ones your sharpen). It's shaped exactly the same, both have great pigmentation & lasting power. I honestly don't see ANY difference between my Maybelline pencil in Dark Brown & MAC pencil in Spiked.

16. Olay Anti Wrinkle Eye Cream - I have to admit, I have no idea if this stuff really prevents wrinkles, but it's amazing as an eye moisturizer! It's rich, creamy, doesn't end up looking greasy on me, & absorbs into skin fairly quickly. It's also one of the only drugstore eye creams that didn't irritate the skin around my eyes!

17. Maybelline ColorSensational Lipsticks - I LOVE THESE! They're really moisturizing (I don't even need to put on lipbalm before using em) & have amazing pigmentation. They're also really smooth to apply - think MAC's Lustre lipstick texture/formula + MAC's Amplified Creme pigmentation. I also really like the smell - it's not too overpowering which is a huge plus since I can't stand the smell of most drugstore lipsticks. Definitely worth trying, especially at HALF the price of a MAC lipstick!

Don't get me wrong, I still love MAC & other higher end brands, but the bargain shopper in me absolutely loves finding high quality products at drugstore prices! :)
Well it's been quite a while since my last post - mostly because I've been busy, but also because unfortunately none of the recent MAC collections have interested me very much :( BUT since I am a neutrals/browns/earthy-tones kind of gal, I finally went to MAC to check out the new Warm & Cozy collection, which is right up my alley & I've been looking forward to its launch for a while now!!

I'm somewhat of a Mineralize Skinfinish collector (I plan to post an entry dedicated to MSFs in the near future--thoughts, swatches & all!) so I knew I was picking up the 2 MSFs from Warm & Cozy: Comfort & By Candlelight.

Now my biggest issue with being a "collector" of MSFs is that I get a bit bothered when I own MSFs that are dupes of each other. If I have 2 that are nearly identical (i.e. Shooting Star & Global Glow) I will only choose one of them to keep. So with that said, I had to do some comparisons of these new MSFs vs. some older ones!

PICTURED BELOW:

Top Row (L-R): WARMED, COMFORT, GOLD DEPOSIT
Bottom Row (L-R): BY CANDLELIGHT, REDHEAD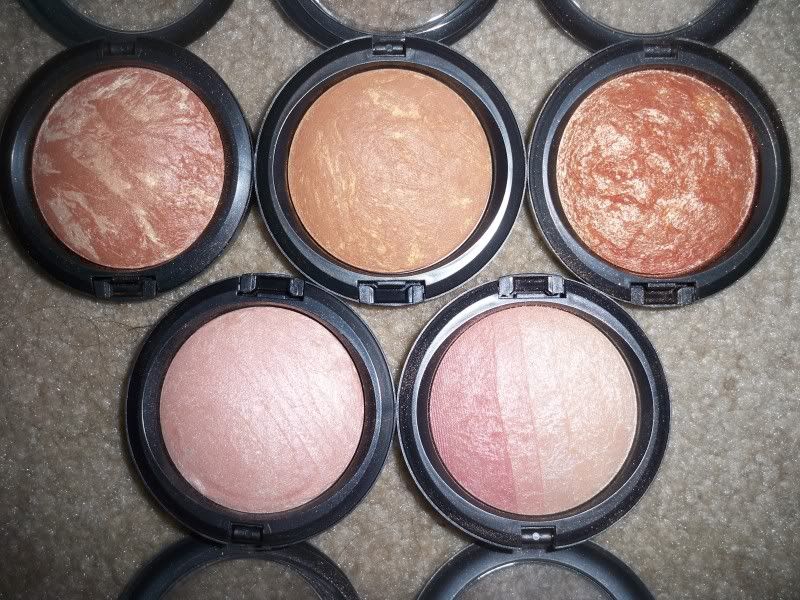 When I first looked at By Candlelight, I immediately thought of Porcelain Pink. BUT after swatching it, I knew there was no way they'd be dupes of each other: Porcelain Pink is much more sheer/less pigmented & not as frosty. I would've done a side by side comparison, but they're so different in pigmentation/texture/finish that I didn't bother.

Compared to Redhead, however, you can see they're VERY similar. The texture & finish are almost identical, so if you're a fan of the soft, buttery smooth texture of the Blonde/Brunette/Redhead MSFs then these Warm&Cozy MSFs will make you just as happy! Redhead is a tiny bit peachier whereas By Candlelight is more of an icy pink, but you can barely tell the difference. By Candlelight is a bit more pigmented than Redhead though, so I'd definitely use a light hand with this one.

*I'm also thinking the Blonde MSF could dupe this, but I don't own one so I can't make the comparison :( I used to have it, but swapped it away bc it was way too frosty/pink for me--moreso than By Candlelight, based on how I remember it looked like.

If you missed out on Redhead, then pick up By Candlelight (hurry though, because I hear they're selling like hotcakes! This one that I own was actually the last one at my Nordstrom counter... or so the SA said...).


LEFT: REDHEAD MSF / RIGHT: BY CANDLELIGHT MSF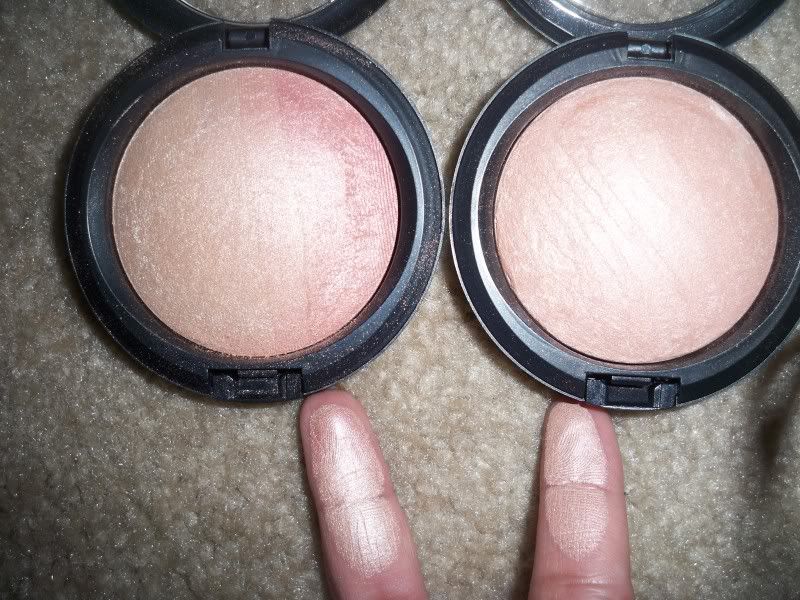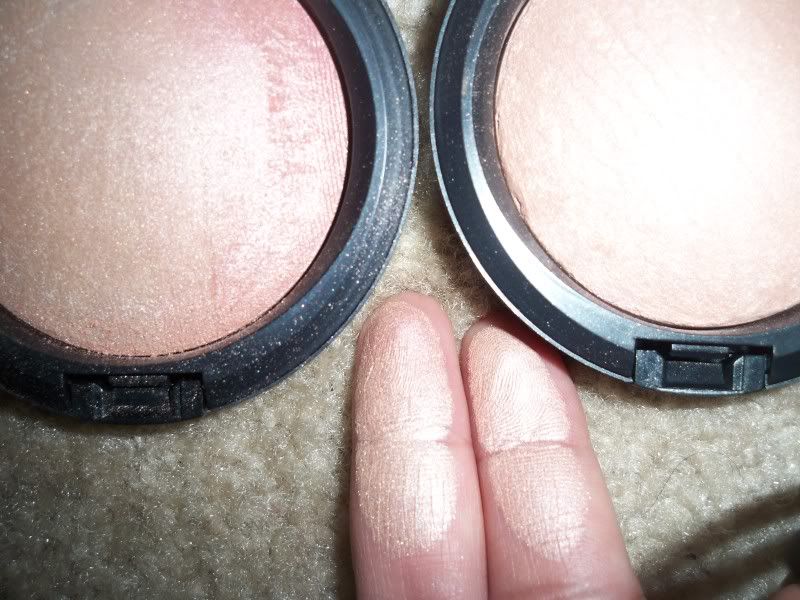 As for Comfort MSF, I chose to compare it to Warmed & Gold Deposit. They're all in the same "family" I guess you could say, however Comfort is much more "flat" as it doesn't have much shimmer at all. Gold Deposit is definitely shimmery & a shade or two bronzier. Warmed is pretty much Comfort BUT with a yellow-gold sheen to it.

If I had Sunny By Nature, I'd totally do a side by side comparison as well.. but I'm thinking SBN is a bit more bronzey/brownish vs Comfort which seems to be more orangey/brownish.

Now when people kept describing Comfort as "orange", it scared me a little, but I am a medium-tan/warm skintone (NC37 in the winter, NC40 in the summer) & Comfort worked well as a blush for me. I used a light hand (one swirl using my EcoTools blush brush) & applied it just below the apples of my cheeks & swept it up to my temples (I felt it looked better that way [gives more of a contouring effect] instead of applying it directly on the apples of my cheeks).


Left to Right: WARMED / COMFORT / GOLD DEPOSIT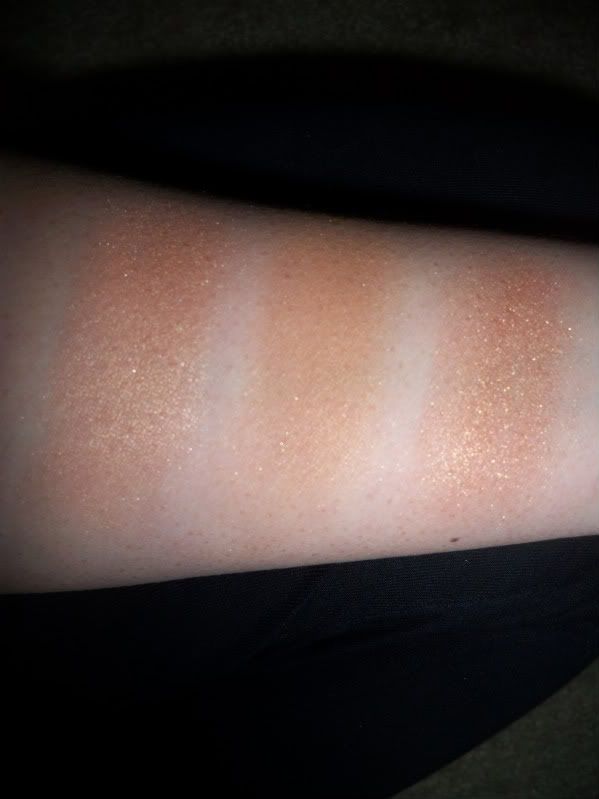 I also picked up Close for Comfort Tinted Lip Conditioner.. which I absolutely LOVE! It's a neutral salmony/peachy/tan tint, which shows up pretty nude on my pigmented lips. Actually, both shades of Lip Conditioner showed up nude on me, I just preferred the shade of Close for Comfort better.

Out of the lipsticks, I liked Warm Me Up the best... I also really liked Spiced Tea, but I already have a bunch of brownish lipsticks in my stash, so I chose to go with something different this time. Siss is permanent so I passed (can you believe the SA tried to tell me it was LE? like, literally INSISTED it was LE.. acted as if I was so wrong when I mentioned it was a perm shade, so I'd pass. she obviously hasn't been working for MAC for very long.. argh).

I also passed on all the shadesticks since I'm a Paint Pot kind of girl, & none of the eyeshadows stood out to me since you can easily find dupes for them in MAC's permanent line.

The All-Over lotion was very silky when I tried it at the counter, but didn't moisturize my dry skin enough for me to buy it (I usually use heavy cream moisturizers anyway). The nailpolishes were nice, but not must haves for me.. same for the oils--just not my thing.

I also got Hypnotizing eyeshadow from the Love, Lace collection.. it's pretty much the only item from that collection that caught my eye.
A very pretty frosty grey/lilac/taupe-ish.. not sure what to call it, but it's very pretty!!!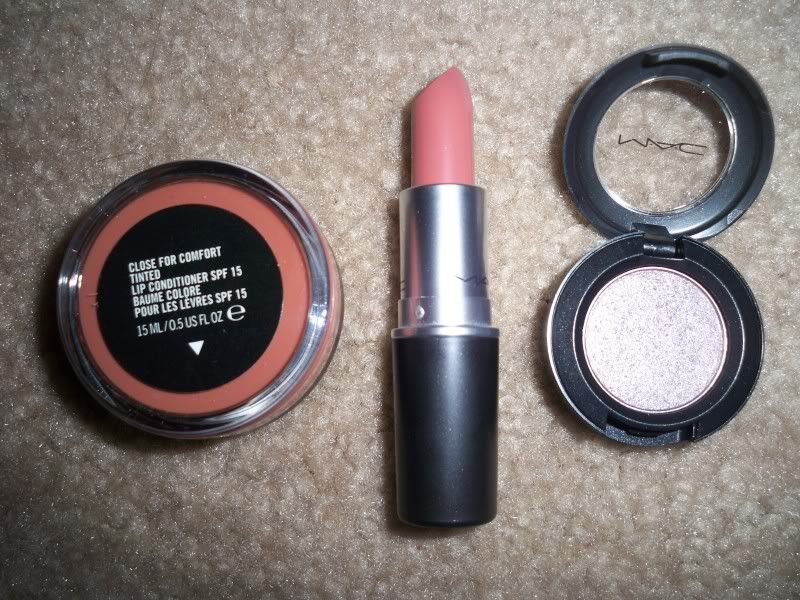 Top: Close for Comfort Lip Conditioner
Bottom: Warm Me Up Lipstick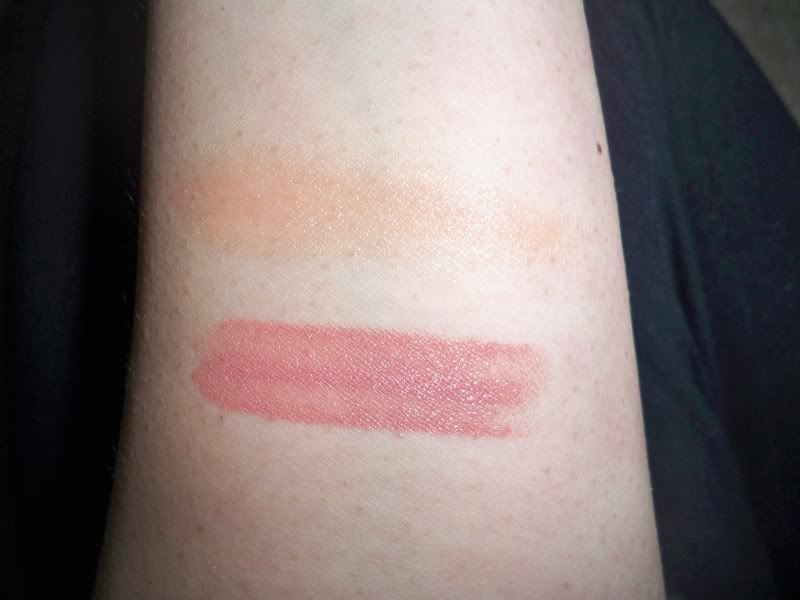 Top: Style Snob
Middle: Hypnotizing
Bottom: Illegal Cargo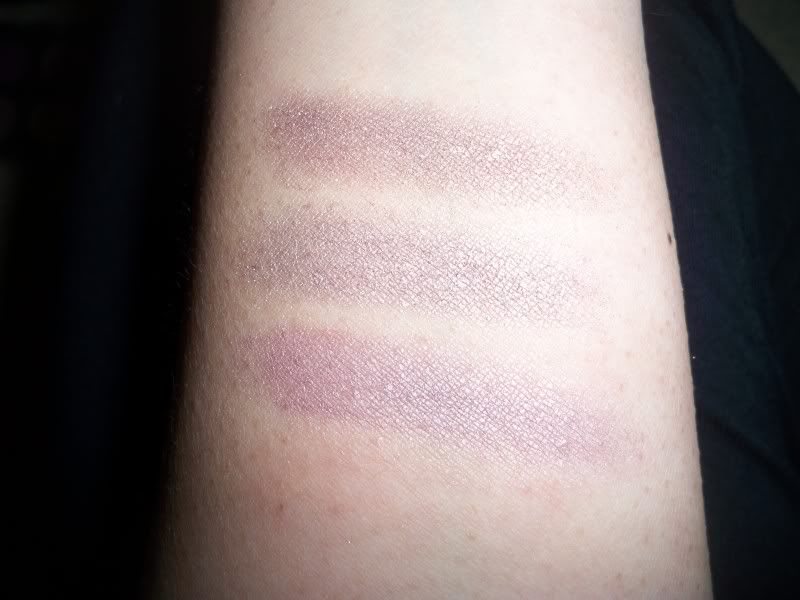 MAC Parfait Amour eyeshadow used to be one of my favorite shades until it "died" on me. I'm not sure how it happened, but over time the shadow dried out: the texture became dry & chalky, & the pigmentation all but disappeared (check out the swatch below of the shadow applied dry w/no base!). Parfait amour is supposed to be a gorgeous blue-violet with a slight duochrome effect...obviously, that was no longer the case!

I tried to scrape off the top layer of shadow with no luck--it was still dry. Not sure if I got mine came from a bad batch or it's just old (mine says it was made in 2005). All I knew was that the pot I had at home was NOTHING like the testers on display in stores...those were nice & creamy-textured, very pigmented & sooo pretty! About 5 times I almost gave in & bought a new one, but I'm glad I didn't!

I've named this experiment the Parfait Amour Project (haha corny, I know) & it was driven by my frustration by my once beloved eyeshadow, but ultimately motivated by one of my latest purchases: the Greasepaint stick in "V" (the purple one :)

This "experiment" basically consists of Parfait Amour swatched in different kinds of ways: applied dry, wet, by itself, over neutral bases, & over colored bases.

I don't use UDPP or Too Faced Shadow insurance--I am fortunate enough to have eyelids that work well with a simple MAC Paint Pot as an everyday base, & I've had absolutely no problems w/colors fading/changing/creasing/etc.

BASES USED:

MAC Paint Pots:

- Soft Ochre: a matte neutral beige w/yellow undertones
- Bare Study: a very light beige shimmer (not glitter!)
- Delft: a deep ocean blue w/hints of green (I use this as a base under my blue & green shadows to make the colors really pop!)
- Blackground: black w/a hint of barely-visible silver shimmer (also another great base to make colors stand out..awesome for duochromes!)

MAC Greasepaint Stick in "V": a deep violet/purple (which I plan to use underneath all of my pink & purple shadows from now on..I've been waiting for a purple base for so long!)

Anyway, here are the swatches (I also took swatches of Blackground, Delft, & V by themselves so you can see what they look like on their own):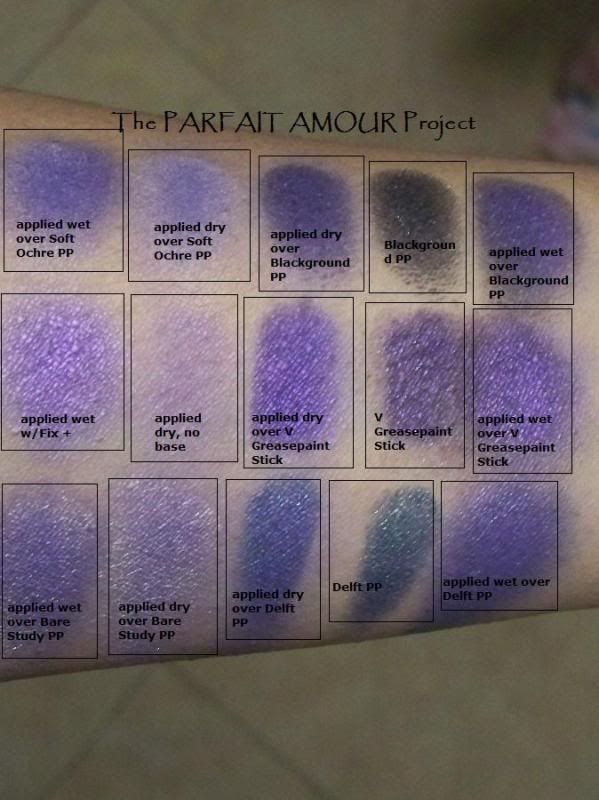 Can you believe how horrible my poor Parfait Amour looks on it's own w/no base?! It looks like a pale, fading purple..almost lavender!!

As you can see, dry application was a FAIL in every way possible. :(

Applied wet w/Fix+, however, definitely bumped up the pigmentation factor.

As for Soft Ochre & Bare Study paint pots, I felt as if these bases took more away from Parfait Amour color-wise. They are light/neutral bases to begin with, so although the color showed up, it definitely didn't turn out as vibrant as when applied over the darker bases.

My favorite outcome was when Parfait Amour was applied wet over the V Greasepaint stick--now THAT is what I've always wanted this eyeshadow to look like on my eyelids! It's definitely the closest match to the color you see in the pot.

As expected, Delft brought out more of the blue in Parfait Amour--very pretty but not the vibrant purple I was looking for.

Applied wet over Blackground paint pot is my 2nd choice: it turned Parfait Amour into a deeper violet (probably a shade or two darker than when applied over 'V'). This would be my go-to application for Parfait Amour if I wanted a smokey-purple eye look.

Well there you have it! The Parfait Amour Project! I'm glad I took the time to do this, since I've now found a way to successfully apply this eyeshadow once again. I would've hated to toss it..yes yes, I know it's an old shadow, but if I can easily bring it back to life with a quick spritz of Fix+ & a swipe of the luxuriously smooth V Greasepaint stick, then why not?!

I'm definitely planning on using this same "project" concept to test out some of my other shadows that I haven't gotten to work out for me yet. :)
One of my favorite things about MAC is their wide variety of eyeshadow colors. Neutral, Bright, Warm, Cool, Matte, Glittery, Frosty, Subtle, Dramatic--they had it all! But even with all those options, I still had a hard time choosing which ones to get....mostly because I wanted them ALL! :)

I've been using & purchasing MAC eyeshadows for years now, & it's been quite the "trial & error" process! Some I LOVE, some not so much. But now that I'm familiar with all the different shades, textures, & finishes, I've come up with my TOP picks--my absolute favorite MUST HAVES for any MAC eyeshadow lover (could also be helpful for those who are just getting into MAC eyeshadows & want a nice variety of colors to start their collection).

**All of these eyeshadows (with the exception of Brule) have frost/shimmer/pearl finishes. If you're more into mattes, I'll soon post a "Favorite MAC Matte shadows" entry :)**

In no particular order, here are my top faves (all are my own photos & swatches):


AMBER LIGHTS (Frost)
This was one of my first MAC eyeshadows (after Beauty Marked, of course :) & I'm currently on my 3rd pan of this (crazy, huh!? i think i used it every day of my senior yr in high school!). It's a true gold color (on the warmer side). It's great as an all over lid color, especially with a dark brown (like Tempting or Bronze) in the crease. For something different, try it with dark purples or greens in the crease (like Nocturnelle or Humid).



DEEP TRUTH (Frost)
My favorite blue ever! It's a deep ocean blue that can work as both a lid & crease color, depending on the look you're going for. Looks great on both warm & cool skintones. I've used this for a smokey-blue eye (w/Black Tied in the crease) & as a lid color by itself (which really draws attention to my dark brown eyes). As you can see, I'm probably going to hit pan in the center sometime soon :)



SATIN TAUPE (Frost)
My everyday staple! I think of "taupe" as a brown/grey combo, & Satin Taupe is just that! It's a versatile shade with a not-overly-frosty finish. Can be worn to work, school, on a night out, wherever. It's the shadow I choose when I can't decide what color to wear that day, which obviously means it goes with pretty much everything--a definite must have!



GORGEOUS GOLD (Veluxe Pearl)
Veluxe Pearls are my favorite MAC e/s finish/texture (besides Starflash, which are LE). This is a very pretty yellow-gold that really brightens up the eye area, whether used on the lid or inner tear duct.



EXPENSIVE PINK (Veluxe Pearl)
Out of all eyeshadow colors, pinks are my least favorite (I don't own very many pinks). But this is an exception! Expensive Pink is a lovely pink-bronze (it's a bit darker & bronzier in real life). Since it's a warmer pink, it goes well with my skintone & looks amazing paired with darker golds & browns.



HUMID (Frost)
If I had to choose just one green from the entire MAC line, it would be Humid. The pic below of the pan turned out way lighter (maybe bc of the flash?) but the swatch is what it really looks like: a true green (think grass green + forest green combined) with a bit of a yellow-gold undertone. I like to wear this as a crease color w/Patina or Woodwinked on the lid.



WOODWINKED (Veluxe Pearl)
Woodwinked = LOVE! This is my favorite neutral brown color ever! It's hard to describe...it's a warm, toned-down bronzey-gold. Not too gold, not too brown..just perfect! It's a VP, so the texture is super smooth, & it's really well pigmented. It has a really pretty sheen to it, too. If Satin Taupe & Amber Lights had a (really beautiful) baby, Woodwinked would be him/her :)




STAR VIOLET (Veluxe Pearl)
Pretty, pretty, pretty! Star Violet is a rosy-plum color with gold undertones. I love wearing this with a deep purple in the crease, but it's gorgeous on it's own as a lid color.



SATELLITE DREAMS (Veluxe Pearl)
I'm a big purple fanatic, so I was immediately attracted to this one. This is my perfect medium-purple shade--not too dark, not too light. And it's a veluxe pearl! (FYI. My fave light purple = Beautiful Iris, dark purple = Fig 1)



TWINKS (Veluxe Pearl)
Twinks is my absolute favorite dark brown color. Unlike other dark browns, Twinks is more of a rich, plummy-brown, which is my favorite brown undertone on my skin color. I also really like Antiqued, but it's more of a reddish-brown. I just tend to reach for Twinks more, I guess :) (Not sure why it didn't photograph that well, but imagine this swatch about 2 shades darker...that's what it looks like in real life :)




NAKED LUNCH (Frost)
This is what I like to call my "Lazy" shade. It's what I pick up when I don't want to put on much makeup, but still want to "liven up" my eye area a bit. In this case, I use it as an all-over lid wash--it doesn't give any color to my eyelids (as you can see, it blends right in with my skintone) BUT it definitely brightens up my eyes. Other than that, it's another extremely versatile shade - it can be used as a highlight for the browbone or inner tear duct, or paired with pretty much ANY other color to give it more of a natural glow.




BRULE (Matte)
This is my HG matte highlight color! I can't do pure whites (i.e. Gesso) since I'm more of a medium-tan/warm skintone; a pure white would look cartoonish on me. Brule is the perfect beige shade for me to use as a matte highlight on my brow bone. I use this the most (even more than Shroom) since it's matte, and my lid and crease colors are usually frosty/shimmery.




SHROOM (Satin)

Shroom is my other highlight color--pretty much the shimmery version of Brule. I use this as a highlight when I have more toned-down and/or matte colors on my lid and crease.




DAZZLELIGHT (Veluxe Pearl)

I loooove Dazzlelight! It's so pretty on its own, but way too shimmery/frosty for me to use as a highlight on the brow bone. I use Shroom for that. I use Dazzlelight specifically for my inner tear duct to brighten up my entire eye look. And of course, it goes with ANY eye look. It's definitely more pigmented than Shroom and Brule (another reason it may be too much as a highlight) and the texture is smooth as it's a Veluxe Pearl. It is the top swatch in the photo below, followed by Brule (2nd) and Shroom (3rd) just for comparison.


I've been blessed with fairly clear skin my whole life (yes, even throughout high school!) so I've never really had a need for full coverage foundation. For the past 3 years, I've been using a sheer layer (or two) of Bare Escentuals Mineral Powder makeup in Medium Tan.
How did I get started on Bare Escentuals, you ask? Well... I was up late one night flipping through channels on TV. And there it was, calling out to me: the infomercial for BE Mineral makeup!!! I was still living with my mom at the time, so she was watching with me. After a good 10 minutes of the rave reviews and unbelievably flawless transformations we saw on the screen, we placed our orders & the rest is history!!!

I never had much of a problem with BE except for the fact that it sometimes got a little cakey if I applied too much. But on those random days I had ridiculous redness or blotchiness on my face, I wanted to be able to put more than one layer of makeup on in order to get rid of it...unfortunately, I wasn't able to do this without my then-boyfriend saying "Well hello there, cakeface!" AAGGHHH.
So I dealt with it...and dealt with it...until I made the ultimate discovery: MAC Fix+! Not just MAC Fix+, but MAC Fix+ ROSE from the Rose Romance collection. LOOOOVE! The smell is heavenly and who doesn't like a super versatile, multi-tasking product?!

I originally bought Fix+ to "foil" my mineral eyeshadows, pigments, etc. Then my MA told me it's also a great finisher to set your makeup and give you that "dewy" look. So when I got home, I took one spritz after applying (more heavily than usual) my BE makeup, looked in the mirror, and almost died. Seriously. Are you kidding?! My face didn't look cakey at all! No powdery/chalky cheeks, nada! YAYYYYY

So quick sidenote: I have a young child & a 1 year old baby at home, so I don't exactly get out as much as I used to (HAH!) and my skintone lightened up a little. Since I look at myself in the mirror every day, it wasn't very obvious to me. But the other week after putting on my makeup, my hubby looked at me and did a man-giggle (the equivalent of a girly giggle except, DUH, he's a man, hence "man-giggle") and I turned around and said "What? Do I have something on my face?" to which he replied, "Yeah, someone else's makeup. Your face is way darker than your neck...and shoulders...and body..." WTF?!?! "Are you kidding?!", I said. So I busted out my mirror and took a good look at myself in natural sunlight.

...my face looked like a freakin overripe tangerine.
GREAAAAT. I was so upset that I tried to pick a fight with him "WHY DIDN'T YOU TELL ME BEFORE?!" and "HOW COULD YOU LET ME WALK AROUND LIKE THIS IN PUBLIC?!" and "CAN WE GET SOME BETTER EFFIN' LIGHTING IN THE BATHROOM!!!????"
Anyway. I washed my poor face off and went to the mall. I walked by Bare Escentuals, but OF COURSE I had to go to MAC first. Anyone that knows me, knows I am ridiculously MAC-obsessed (again, I don't get out much) and MAC makeup has become a very expensive hobby of mine. So I walk into MAC and ask the MA for a sheer coverage mineral foundation. She directed me to MSF Natural, which I've definitely heard of (I'm a HUGE fan of regular MSF's & have a bunch) but have never tried the "Natural" version. MSF Naturals are made to be a finishing powder following foundation application, but they work just fine on their own if you don't need that much coverage. I was assuming I was Medium Dark (since I'm a Medium Dark in their tinted moisturizer), but the MA goes, "No, you're a Medium Plus..Medium Dark is too dark for you". I took one look at the compact and thought "Holy crap, I must be one hell of a hermit cuz this LIGHT!"..much lighter than I would've guessed. I'm just so used to being naturally tan.

So I took the Medium Plus home and wore it every day for a week (half expecting to find it too light & exchange it for Medium Dark)...but no! IT'S FREAKIN PERFECT. and I am in loooove. It gives me the sheer-medium coverage that I need, it's super lightweight, it DOES NOT get cakey no matter how many layers I put (and I don't even NEED Fix+ with it)!!! And last but not least, it makes my skin look airbrushed and flawless, with very little effort...just swirl, buff on w/my kabuki brush, and go! And I love how it's a pressed powder, I hate how BE's makeup was loose and prone to spilling all over the place. I just wish MAC had a mirror in the MSF compact.
This is my new HG everyday makeup, for sure.

MAC Mineralize Skinfinish Natural in Medium Plus is my new best friend!

Here are a couple pics of the one I actually own...(FYI, in the photo at the top of this entry, the first two in the 2nd row are NOT MSF Natural shades-they're part of the regular MSF line :)



So it's August 20th and the new MAC Makeup Art Cosmetics collection launched today!

First of all, you'd think MAC could come up with a more creative name for this collection. But it's nice that they're touching on a bit of their history and focusing on the ARTISTRY aspect of their makeup line (after all, wasn't the MAC cosmetics line originally created exclusively for makeup artists in the first place?)

So this collection is broken down into 3 "sub-collections" I guess I'll call it, each featuring a different artist (a painter, a photographer, and illustrator). Each artist's individual, unique collections have different products with different color schemes that cater to a variety of styles - I think everyone, no matter what their makeup "style" is, will find something they like in this collection.

Makeup Art Cosmetics as seen by Maira Kalman (the illustrator):



The color palette of this collection are vivid brights/neons. Very cool, but I'm not very much into bright makeup so I had to pass on these.

Makeup Art Cosmetics as seen by Marilyn Minter (the photographer):




I was planning on getting both Cocomotion & Push the edge (i LOVED the push the edge photos i saw online!) but it's NOT the same in real life (I was quite disappointed. PTE isn't as vibrant in real life, doesn't go on as smooth as the other pigments & actually looked like a matte pigment w/blue-purple sparkles. boo! BUT Cocomotion is LOVE... you must get it if you missed it last time like me :)
Heritage Rouge was very pretty also, but since it's permanent I'm in no rush to get it. Brash & Bold is also really nice if you're into bold colors.

As for the glitter reflects, I'm more of a subtle shimmer girl, not so much in-your-face glitter, so i skipped these.


My personal favorites were mostly from Richard Phillips (the painter), who's collection included 3 eyeshadow quads, 5 lipsticks, 2 blushes, 4 lipglosses, and a mascara. As you can see, I'm a 'classic' kinda girl :)





So here's what I ended up purchasing:

-PHOTOREALISM QUAD (with & without flash, next to window in natural light)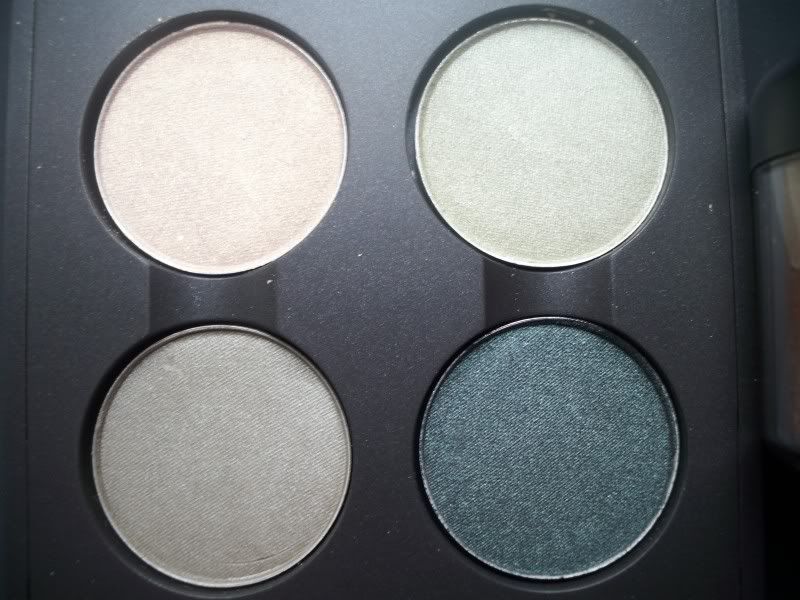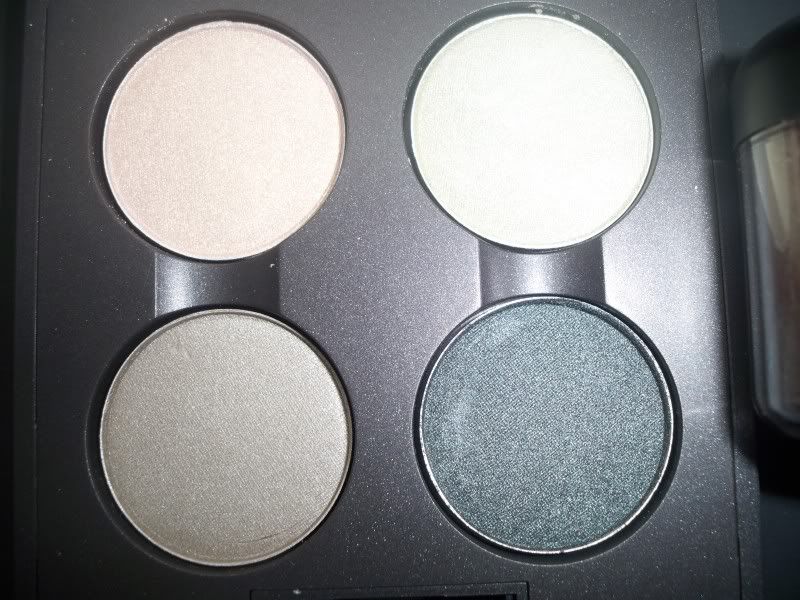 [/

-NOTORIETY QUAD (with & without flash, next to window in natural light)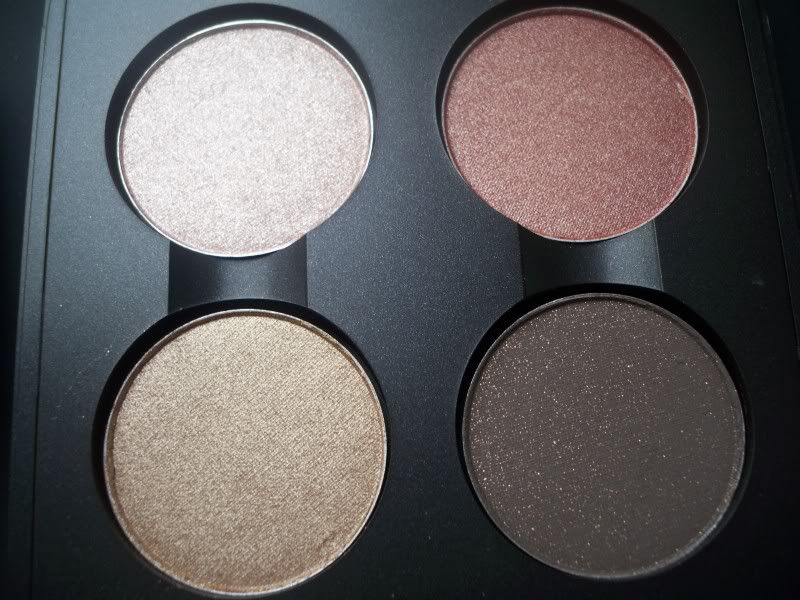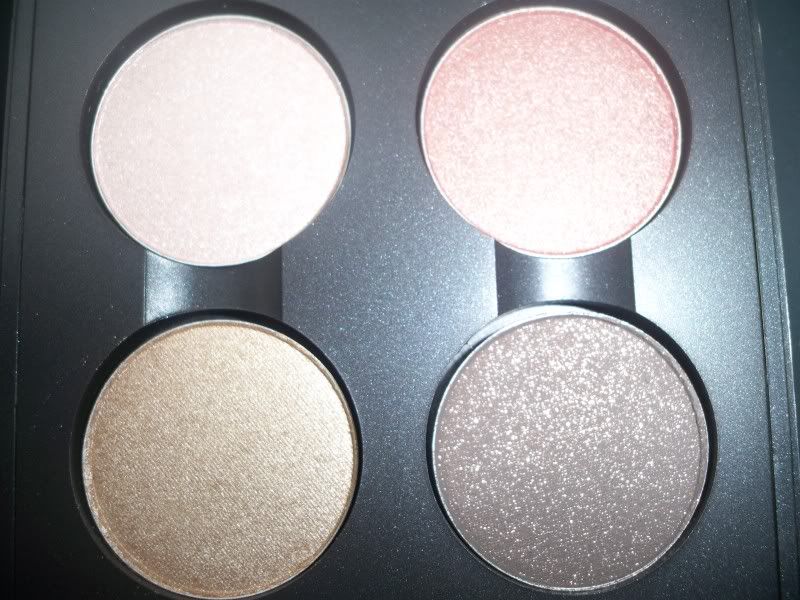 -COCOMOTION PIGMENT & LOVIN IT LIPSTICK (LUSTRE)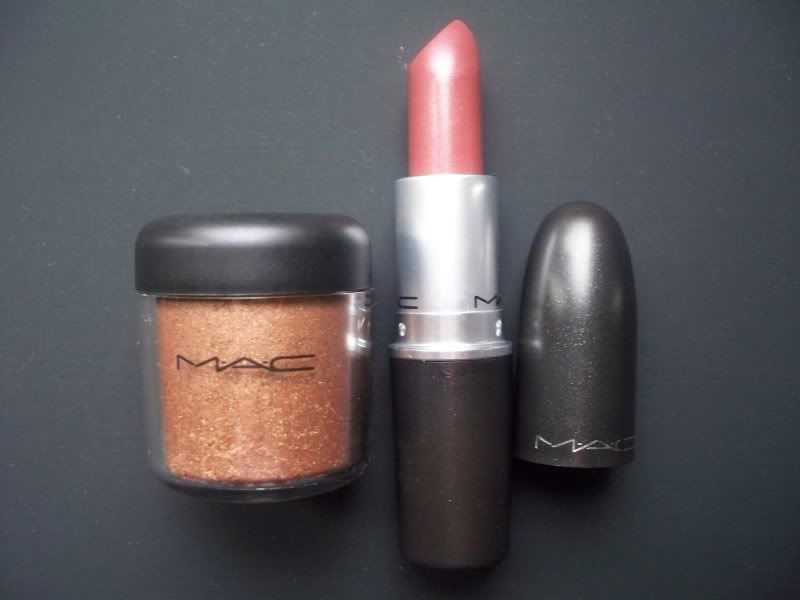 Quick thoughts:

PHOTOREALISM: I LOVE this. If you're into greens, I'd definitely recommend getting this bc the 3 shades of green in this quad are NOT easily duped by any greens in the permanent line.

NOTORIETY: I personally like this alot, but I do agree with everyone that most are dupeable. I would say only get this if you're into neutrals &/or want a wearable "everyday" quad that you can easily reach for in one spot.

IN THE GALLERY: I am a HUGE fan of purples, so when i saw this in person I was disappointed..most of the purples were a little on the greyish side, almost washed out. It was also the chalkiest of all the quads, so I skipped this one.

LIPSTICKS: The only one that caught my eye was Lovin it & Hold the Pose. Lovin it was a beautiful rosy brown color that I immediately fell in love with. Hold the pose was a super pretty purple w/sparkles, but seemed more on the cooler side & I wasn't too sure how it'd work with my warm skintone. So if i'm still lemming it next week, I'll go back for it =) The rest of the colors didn't really stand out to me.

While I was there, I was also talked into getting Smooth Merge MSF, Peaches blush (which is my new favorite blush!!!), and a Pearlglide eyeliner in Rave (such a gorgeous deep purple!). Okay, that's it...I'm seriously not buying any more makeup for at least a month!

the end :)
I went on vacation to Hawaii this summer, and was setting up my "makeup station" in the bathroom on our first day there. I had slept on the plane for 3 hrs straight then sat in a hot car for 45min on the way to the hotel, so I was in need of a major touch up.

So there I was in the bathroom, beginning to unscrew the top of my Bare Minerals foundation (this was before I started using my MAC MSF Natural) when my wannabe-jokester of a husband thought it would be funny to sneak up on me. BAD IDEA. The moment he said "BOO!" while abruptly grabbing my shoulders, Bare Minerals went flying everywhere!!!! At least half of the $30-something dollar jar was all over the place (and I had just bought it the week before!). ARGHHHH. I literally almost cried. It was freakin brand new! The hubby was like "It's okay, it's okay, it's JUST MAKEUP, it's replaceable..." JUST makeup? You should've seen the look on his face when I told him how pricey that TINY jar of powder was. He had assumed it was no more than $10 (haha!!!).

Anyway, off to the ONLY store in all of Maui that carried MAC (and it wasn't even a freestanding store! It was a counter in Macy's!) because I finally had an excuse to buy their new tinted moisturizer. It was the perfect opportunity: we were in super hot, humid weather, so I wanted something lightweight and moisturizing (bc my skin is always REALLY dry, no matter what kind of weather). Added bonuses: it's tinted, so it provides the sheer coverage that I want, & also offers sun protection since it's SPF 15.

Now, I've always avoided MAC foundations because I've heard so many horror stories about how their formula makes everyone break out. For that reason, I've never tried ANY of their all-over face products/foundations (except for their regular powder blushes, powder pigments, & mineralize skinfinishes which are also powder). Anything liquid of theirs, I've been told to stay away from. So on my first day of trying out the Studio Moisture Tint, I made sure to only use a LITTLE bit, then I'd add a bit more each day thereafter until I got to the amount I'd normally use on a daily basis.

For reference, I have super dry (albeit fairly clear) skin. I get small patches of redness on my cheeks randomly sometimes though, which is the main reason why I like to use a sheer foundation to even out my skintone. I found that the Studio Moisture Tint has VERY good pigmentation for a "tinted" product--it did a great job at eliminating any discoloration on my face from redness and/or dry patches. In my opinion, it has slightly better pigmentation than the highly popular (and much more expensive) Laura Mercier tinted moisturizer, which I got once and returned bc it left my face looking a little "greasy" after application -- NOT a good look.

Which leads me to my favorite feature of Studio Moisture Tint: the finish! After a few seconds of letting the product "settle" on my skin after applying, it left a very natural, satiny-matte finish that I LOVE. No greasy look, (huge plus), and not really "dewy" or "glowy" either (although I do love a "glowy" look, I don't expect it from this product bc that's not what it's for. I use my beloved MAC MSF in Refined for that all-over glow anyway). It's a simple, lightweight matte finish, but not TOO matte that it looks as if you're obviously wearing something on your face.

Lasting power was pretty good (after about 6 hours in hot weather, though, I'd reapply). To extend the wear for the entire day, I'd suggest using a mattifying primer (for oily skin) and/or setting it with face powder after application (for normal/dry skin). I like to wear Studio Moisture Tint on it's own on when I'm having a "good skin day" and don't really need that much coverage, but if I want a little more coverage then I finish it off with my MAC Mineralize Skinfinish Natural, and it's amazing!

Another great aspect of this product that many will love is it's convenience--no need for the moisturizer --> foundation --> finishing powder routine..this is a great all-in-one product that makes it easy for a 1-step/on the go application. Again, this is a TINTED MOISTURIZER, so although it does a great job at evening out the skin, it's NOT going to cover up pimples/scars/blemishes. I'd put a concealer on problem areas first, then apply the Studio Moisture Tint.

One thing to know before purchasing: IT RUNS LIGHT. I wear a Medium Plus in Mineralize Skinfinish Natural, and a Medium Dark in Studio Moisture Tint (which is weird bc a Medium Dark in MSFN is WAY too dark & orangey on me). For this product, I would definitely recommend going a shade darker than what you'd normally pick up. The shade range isn't as broad as their other face foundation lines, which I'm assuming is bc it's a new product. But if this launch is successful, I'm sure they'll add more down the line.

It's priced at about $29 for 1.3 oz of product -- seems like a large amount of money for so little product, but a tiny bit of this really does go a long way :)

Overall, I'd rate it a 5/5. It's right up there with MSF Natural for me, another one of my everyday staples that I'm sure I'll be buying more of in the future.
I LOVE LUSH. It's seriously one of the most interesting stores I've ever been in. Walking by, you'd just think it was a soap store, what with all the huge blocks of soap-looking stuff sitting on every table. I went in not planning on purchasing anything--I actually decided to go in because I thought their window display of a GINORMOUS honeycomb-looking block of soap called "Honey, I Washed the Kids" was hilarious!

Anyway, although they market their products as "Fresh Handmade Cosmetics", it's not the type of cometics that include eyeshadows, lipsticks, etc...they do, however, have a ridiculously wide array of soaps, cleansers, shampoos, moisturizers, & bath items. Some interesting finds: heart shaped/chocolate scented massage bars, "bubble bars" w/a variety of scents and COLORS (yes, it's possible to have a bath with orange colored water and gold sparkles floating around), solid shampoos made out of seaweed, and a little bar of soap in the shape of a baby's face:



See what I mean? Interesting, right? So I picked up this particular soap (appropriately called "Baby Face") and the Sales Associate rambled on about what a great cleanser it was, blah blah blah. Apparently I picked up the right item (because I told her I was looking for an all natural makeup remover) and she said I was holding it. She then proceeded to demonstrate the "strength" (that's what she said) of the soap by drawing a line on my hand with a SHARPIE (yes, a permanent marker. I almost slapped her bc she didn't warn me she was gonna do that--she just grabbed my hand and marked it...hmm..) but as quickly as she drew on my hand, she rubbed that round baby face over it once, took a warm water-soaked cotton pad and WIPED IT RIGHT OFF. Sharpie and all. Now granted she did this demonstration fairly quickly, so there wasn't exactly enough time for the Sharpie to soak/settle into my skin, which could've been why it came off right away. BUT, my hands were dry as hell that day (as they usually are, bc my skin is ALWAYS dry :( booo hooo) so the marker actually could've dried faster than usual on my skin, who knows? And who cares? I was sold, and I bought it. LOL. Actually, I bought two. :)

Now, the Baby Face is all I use to take my makeup off AND cleanse my face. It's all natural like everything else in their line (main ingredients are CocoaButter, Avocado Butter, Shea Butter, Coconut Oil, and Tangerine oil). AND it's Vegan (many other Lush products are too) and I'm all for that. This is how Lush describes Baby Face:
Gently cleanses and softens dry sensitive skin all at the same time
Baby Face gently cleanses skin to leave it soft as a baby's bottom. Perfect for dry, sensitive skin or wind-whipped faces, it effectively removes makeup and dirt while its cocoa, shea and avocado butters smooth and soften. After applying Baby Face, simply wipe it off with a slightly damp cotton pad or face cloth. Preservative-free and unpackaged, this cleanser is easy on the environment too and the bar format makes it a cinch to travel with!

Yup, it's all of that and then some. I love that I no longer have to use liquid makeup removers (that contain chemicals I can't pronounce) so near my eyeballs. I just swipe the Baby Face bar all over my face (especially in areas that have lots of makeup)--and no need to wet your face before you swipe it on bc the bar melts naturally into your skin with your body heat--and then I use a warm washcloth to take it all off. It even gets my waterproof mascara and eyeliner off easily.

Bottom line, this product is genius. I can't believe I didn't discover it sooner. Yeah, it is a little odd to be rubbing a bar of (kind of scary looking) soap with a baby's face carved onto it, but you get over that after a while :) lol. It's definitely a must have!